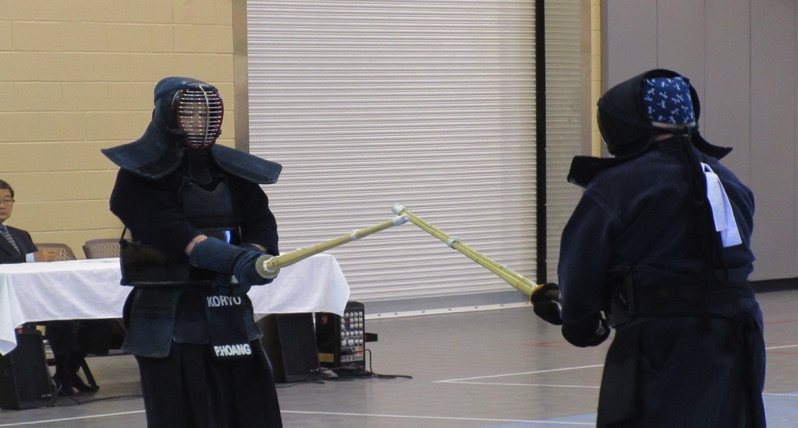 Kendo has evolved from deadly sword combat of the Japanese Samurai era to a modern sport, while retaining the respect of opponent and spirit inherent in its roots. Today, Kendo is practiced throughout the world.
The objectives of Kendo practice are to train the body and mind, to build a strong soul, to strive relentlessly fo improvement in the art of Kendo by tough, serious training; to respect human courtesy and honor; to mix with others in all sincerity, and always strive for personal accomplishment. The concept of Kendo is to discipline the mind by means of applying the principles of the sword.
This dojo is a member of South Eastern United States Kendo Federation and All United States Kendo Federation so that students may learn techniques that are authorized and standardized among dojos around the world.
We accept students from 6 years of age, wheter male or female. Kendo is practiced with a protective armor reminiscent of that wore by great Japanese generals. The armor consists of MEN (protective helmet), KOTE (gloves), DOH (body plate) and TARE (hip guard), making it totally safe to practice. Only permitted strikes are allowed to prevent injury to uncovered areas. A SHINAI (bamboo sword) is used in practice, is made of pieces of bamboo held together by leather. A uniform is neccessary to practice, which includes: KENDOGI (jacket), HAKAMA (skirt-like pants), TENUGUI (head towel).
CLASS SCHEDULE
Wednesdays
6:30pm-7:30pm beginners and kids
7:30pm-8:30pm advance
Saturdays
12:00pm-1:00pm bokuto practice-all level and ages
1:00pm-2:00pm beginners and kids
2:00pm-3:00pm advance
LINKS
South Eastern United States Kendo Federation: www.seuskf.org
All United States Kendo Federation: www.auskf.info
Please visit, call or email us to schedule a free trial class.